TRYOUT INFORMATION for the 2023-24 Season 
Supplemental Tryouts   August 9 / 5:00-6:30 PM
Berner Middle School/ Massapequa
Click Here to Register

50 Carman Mill Rd, Massapequa, NY 11758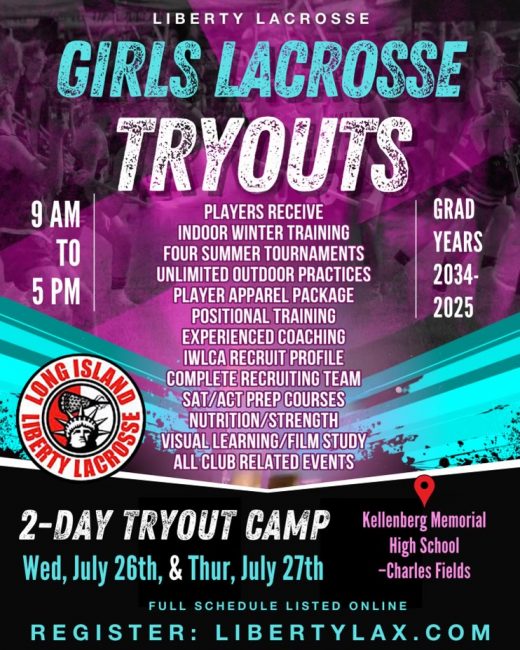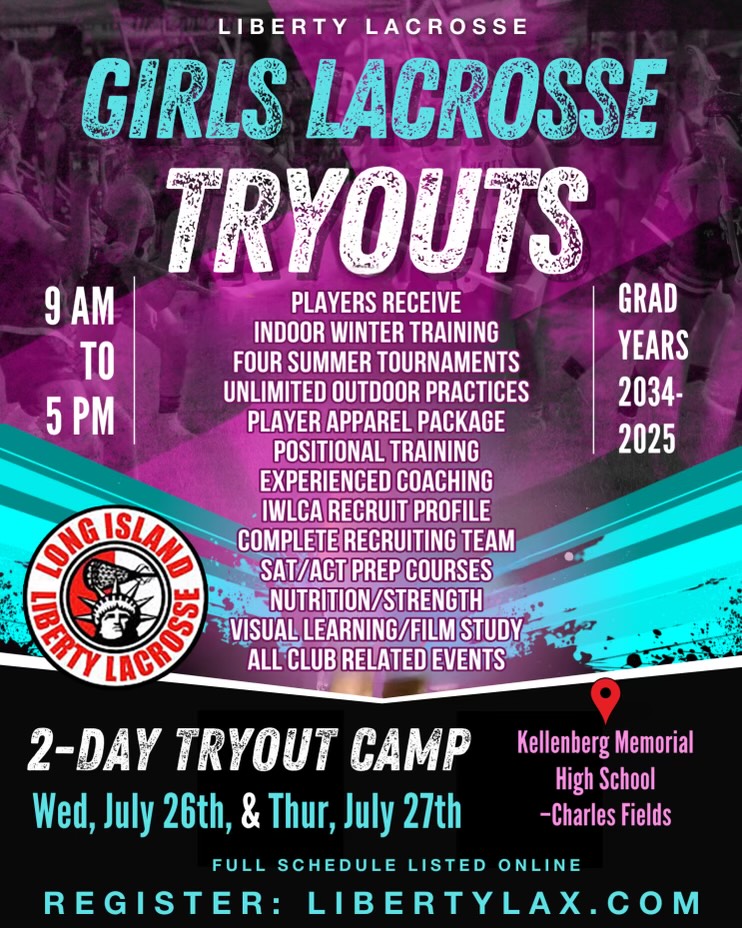 TRYOUT DATES AND TIMES BY AGE GROUP
Wednesday, July 26th
Thursday, July 27th
9:00 AM – 10:30 AM
2034
9:00 AM – 11:00 AM
2027
9:00 AM – 10:30 AM
2033
9:00 AM – 11:00 AM
2028
9:00 AM – 10:30 AM
2032
10:30 AM – 12:30 PM
2031
11:00 AM – 1:00 PM
2029
10:30 AM – 12:30 PM
2030
11:00 AM – 1:00 PM
2030
10:30 AM – 12:30 PM
2029
1:00 PM – 3:00 PM
2028
1:00 PM – 3:00 PM
2031
1:00 PM – 3:00 PM
2027
1:00 PM – 3:00 PM
2032
3:00 PM – 5:00 PM
2026
1:00 PM – 3:00 PM
2033
3:00 PM – 5:00 PM
2025
All selected players receive the following:
• Complete custom uniform and player apparel package
• Complete 16-week winter training program
• 4 Summer Tournaments
• Professional Coaching
• Fall, Spring, and Summer unlimited outdoor practices
• Positional Training
• IWLCA Sports Recruits Profiling
• Recruiting Team
• Nutrition /  Strength Training
• Visual learning / Film study
• SAT / ACT Prep Courses
• All Club Related Events
If you have any questions, please email admin@libertylax.com with your player's name and grad year.
See you on the field!
Click here to sign up for our mailing list to receive updates on tryouts and other programs.
What to expect with your Liberty Lacrosse membership:
Liberty Lacrosse offers premium instruction for over 11 months of the year. Liberty Lax boasts the best coaching staff in the country with a staff consisting of top world cup players, excellent high school coaches and former college players.
Liberty Lacrosse is an elite lacrosse program designed for girls of all ages. Liberty Lacrosse provides a family environment where each and every player truly matters. We take an interest in all of our athletes and help
them to be their best, on and off the field. Our Liberty coaches are current and former collegiate players that want to help better the next generation of LibLaxers. Liberty Lacrosse offers a lacrosse education that promotes individual development en route to learning how to become part of something bigger: one team!
Players have the opportunity to compete in high-level tournaments with exposure to top collegiate coaches. Liberty Lacrosse players move on to play at top D1, D2, and D3 programs in the country every year and continuously play vital roles in these programs. In order for our players to achieve their goal of playing collegiately, we offer a forum each year to help parents and players better navigate the recruiting process. The forum includes a panel of college coaches so that members of our Liberty family can gain valuable first-hand knowledge about what college coaches are looking for.
LIBERTY LACROSSE takes it to the NEXT LEVEL.
Director, Danielle Gallagher, is one of the top women's lacrosse players in the world. She is the Director of LI Liberty Lacrosse and Black Diamond Lacrosse as well as a Board Member for the Diane Whipple Foundation. Danielle was a former Assistant Coach of Notre Dame and Colorado College and former HS Coach where she has received numerous accolades including multiple State Championships and received Coach of the Year recognition. Danielle has been inducted into the National US Lacrosse Hall of Fame, LI Lacrosse Metropolitan Hall of Fame,  Nassau County Athletics Hall of Fame,  College of William Mary Hall of Fame and Manhasset High School Hall of Fame.
Fall Tournaments:
Fall tournaments will be "a-la-carte".  Spots are limited on fall tournament teams.
CLICK HERE FOR CALENDAR
Fall & Spring Scrimmages: Whenever a competition is available that fits our players' schedules, we add scrimmages to play local clubs from the metropolitan area. (Scrimmge schedules are posted in TeamSnap)

Winter Season: Indoor winter practice sessions beginning in November.
Indoor winter practices have been an incredible addition over the last few years to keep our players lacrosse-ready throughout the year.  This is a great opportunity for our players to improve their individual skills and enhance their team chemistry!
Spring/Summer Schedule: Spring/Summer practices beginning mid-late March.
Other Benefits:
RECRUITING SERVICES:
Liberty Lacrosse recruiting services are directed by Danielle Gallagher and Danielle Etrasco.  We support and guide our players and their families through the entire recruiting process.  In order to do this, we offer many opportunities for our families to become educated about the process and gain the essential tools needed to navigate their custom path.  As a reputable girls travel lacrosse club, we are able to help our players attain their goals of playing collegiate lacrosse, as we work alongside them through their individual journey.
Recruiting Night:  Liberty Lacrosse holds a recruiting evening where we invite DI – DIII coaches openly discuss the recruiting process as well as supply insight into the life of 

student-athletes.  

We supply a custom, updated Liberty Lacrosse Recruiting Manual that has important step by step guidelines, links, and access to many of the tools needed in the recruiting process.  Past coaches that have attended: Harvard, U Penn, Trinity, Molloy, Dartmouth, Lafayette, Hamilton, Monmouth, Princeton, Yale.
Recruiting Calls: Liberty Lacrosse holds informative team recruiting calls several times throughout the year which also includes information to questions that are submitted 

beforehand 

by players and parents and open Q & A time for additional questions at the end of each call.  This is another great support service to make sure that players are on schedule within the process.
SPEED & STRENGTH TRAINING:  (This is optional, not mandatory) The past two years, we offered the opportunity for our players to add speed and strength training to their winter workouts.  Our athletes have had the opportunity to participate in speed and strength training with Steve Grouley.  These services are offered at a discounted rate and are scheduled to start at the beginning or end of each team's indoor practices. This is a great opportunity for the girls to stay in shape and learn the proper way to train and enables them to learn how to work out properly on their own time as well. For more information, visit: Hammer Human Performance & Sport
GOALS & EVALUATIONS: Feedback and open communication are vital for each athlete to reach their potential.  Our experienced coaches will supply this throughout the year on the practice and tournament fields.  In an effort to enhance each player's experience as a Liberty Laxer, we work with our players to set individual and team goals, as well as help them achieve these goals throughout the year.  This upcoming year, each player will receive a personal written evaluation from their coach at the end of the summer season.
ADMINISTRATIVE SUPPORT: Liberty Lacrosse has full-time staff members that work to make sure that communication is clear and constant, and work tirelessly to support our families.  The staff is available to answer questions via e-mail and phone.  We know everyone is busy and we want to make this part of your life as simple as possible.  We work hard to communicate events and reminders.  We try our best to give you dates to mark your calendars as early as possible, reminders for your team's schedule, hotel, and travel arrangements.
TEAM WEBSITE: Each age group (by High School Graduation Year) has their own TEAM PAGE. Liberty Lax families have login access to their team page. With one click, players and parents are able to view PRACTICE dates, times, and locations; TOURNAMENT dates, locations, waiver links, and tournament websites; HOTEL information for their team's room blocks. This has been an incredible tool that has made planning and organization simpler for our families.